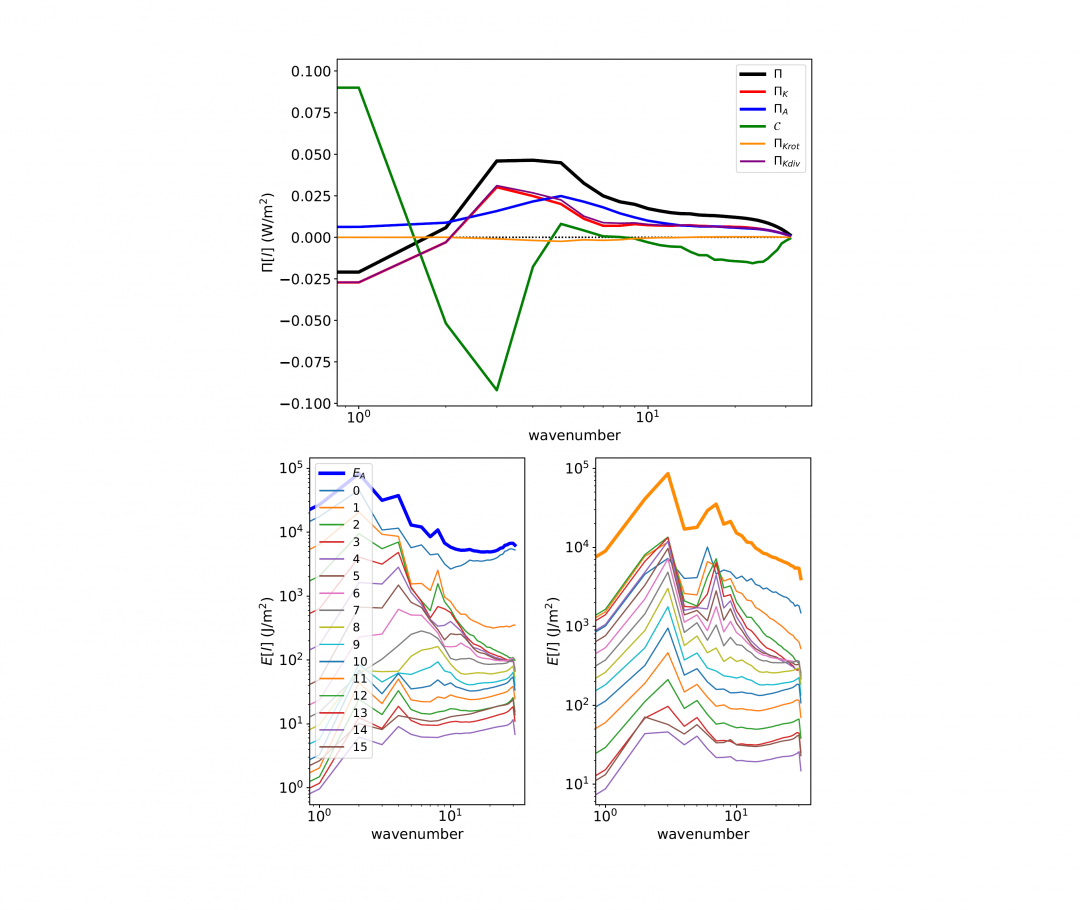 The Spectrally resolved energetics of the Martian atmosphere
The spectrally resolved energetics was computed from the MACDA dataset. This is an advanced diagnostic tool that offers energy-balance information at each length scale, including the kinetic and potential energy spectra, along with the spectral energy fluxes and cascades. The results show downscale energy cascade throughout, an absence of the enstrophy inertial range and high seasonal variability in the spectra, but preserving the same yearly-mean spectral structure.
In the top image, the spectral fluxes of the Martian atmosphere averaged over MY 24, 25 (with the global dust storm event) and 26 are shown. The black line signifies total energy, red and blue are the kinetic and available potential energy respectively, green is the conversion between kinetic and potential, and purple and orange are the decomposition into rotational and divergent components of the kinetic energy. The bottom image contains the available potential (left) and kinetic energy (right) total spectra (thick lines) and their decomposition into vertical spectra (thin lines).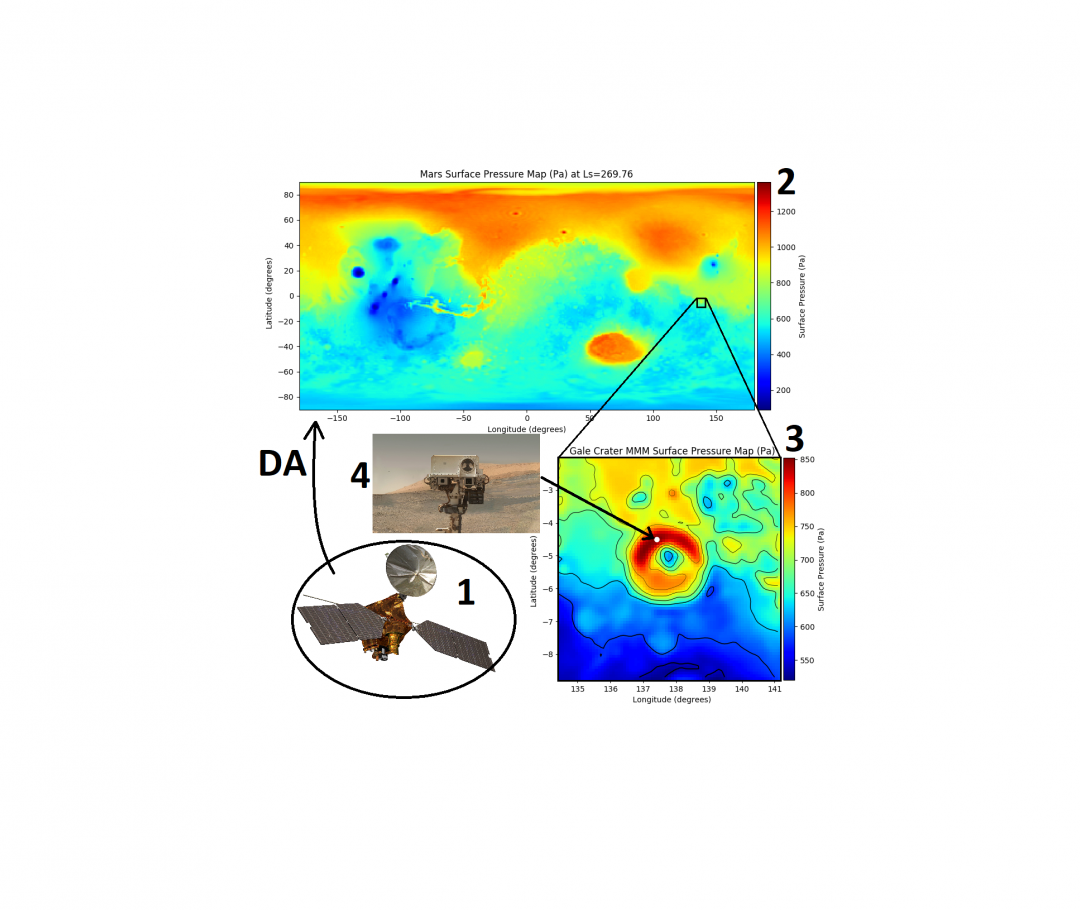 The meteorology of Gale Crater from Rover Environmental Monitoring Station
The meteorology of Gale Crater was studied from a combination of in situ observations from the Rover Environmental Monitoring Station (REMS) onboard NASA's Curiosity Rover, a complex configuration of numerical models and spacecraft data from NASA's Mars Climate Sounder (MCS) instrument. Essentially MCS Temperatures were assimilated by the UK/LMD Mars GCM to produce a global T170 spectral resolution reanalysis. The LMD Mars Mesoscale Model was embedded in the reanalysis to downscale the it to a resolution of 80x80x60 grid-boxes of 5 km side-lengths, covering a 400km x 400km region surrounding the crater. This was interpolated to the location of the Curiosity rover and the Singular Spectrum Analysis (SSA) was applied to compare with in situ measurements. Almost perfect agreement was reached in the in the correlative diurnal and semidiurnal SSA-Eigenvectors between model and observations.
Understanding the mechanisms of generation and evolution of Martian dust storm events
Generating the second version of the MACDA dataset which will span 12 Martian Years (MY 24 to MY 35) and involve the assimilation of both temperature and dust from the Thermal Emission Spectrometer and Mars Climate Sounder instruments. The database will be used to study the formation, evolution and decay of the Martian dust storm events
Research interests
Martian Atmospheric Modelling, Data Assimilation
Numerical Methods