Astronomy and astrophysics
Astrophysics
As part of a wider collaboration, Professor Dimitra Rigopoulou and her group have used a new method to find out more about a highly star-forming class of galaxies in the Universe. These galaxies are extremely bright in the infrared part of the spectrum but faint in the visible or optical wavelengths and were first observed more than 30 years ago, using NASA's Infrared Astronomical Satellite (IRAS).
They were observed to be more than a few trillion times brighter than the Sun in the infrared and they build more than a few hundred to thousand solar masses of new stars per year. Such stars are expected to glow in the ultraviolet and optical wavelengths. However, these rapidly forming stars are buried deeply inside dust clouds, and, thus appear faint in these short wavelengths. Their ultraviolet light is absorbed by the copious amount of dust associated with the starburst and re-emitted at far-infrared wavelengths.
Tackling an unanswered question
It was later found out that most of these galaxies interact with a nearby companion galaxy, leading astronomers to believe that a high star-formation rate of these objects is triggered by the interaction between galaxies, resulting in gas clouds collapsing and forming new stars. Professor Rigopoulou and collaborators tackled a question astronomers have tried to answer through observations over the last decade: the evolutionary path of these infrared-bright galaxies. One approach is to use bright emission lines to determine the abundances of metal in the interstellar medium. Using emission lines in the optical part of the spectrum, astronomers found that the metal abundance of these objects is less than half of that found in galaxies of similar mass (0.3-0.4 dex offset), but are not rapidly star-forming like these infrared-bright galaxies. The optical emission lines, however, are obstructed by dust, and therefore could miss extremely dusty regions important for ultra-infrared luminous galaxies.
'In the study we have published,' explains Professor Rigopoulou, 'we used emission lines in far-infrared wavelengths tracing oxygen and nitrogen elements to measure metal abundances of the interstellar medium of ultra-luminous infrared galaxies. Contrary to emission lines in optical wavelengths, these lines are less susceptible to dust obstruction, providing a clear view of extremely dusty galaxies.'
Measuring far-infrared emission lines
The group reported the metal abundance of five nearby ultraluminous infrared galaxies by measuring three key far-infrared emission lines, [OIII]52, [OIII]88, and [NII] 57 micron. Existing space-based far infrared data lack the availability of [OIII]52 micron emission lines for the sample of galaxies used in this study. This is due to the 55 micron low wavelength cutoff of the Photoconductor Array Camera and Spectrometer (PACS) instrument on the retired Herschel telescope. The group targeted this line for their sample using the Far Infrared Field-Imaging Line Spectrometer (FIFI-LS) on board the Stratospheric Observatory for Infrared Astronomy (SOFIA), a Boeing 747 equipped with a 2.5-m telescope.
'Combining our new SOFIA observations with Herschel-PACS archival data for the same galaxies, we found that metal abundances derived from far infrared lines no longer show significant deficiency,' she concludes. 'We further compare the metallicity of ultraluminous infrared galaxies with less dusty galaxies with similar stellar mass and star formation rates.
'We find that the metal content of ultraluminous infrared galaxies follows the same trend with less than 0.1 dex offset from the average metallicity of galaxies with similar stellar masses. (Figure 1). The lack of a departure from this relation strongly suggests that ultraluminous infrared galaxies do follow the same mass assembly mechanism as other star-forming galaxies. The lower abundances derived from optical wavelengths are simply due to the fact that such observations fail to account for the heavily obscured metal-rich gas found in the hearts of these galaxies.'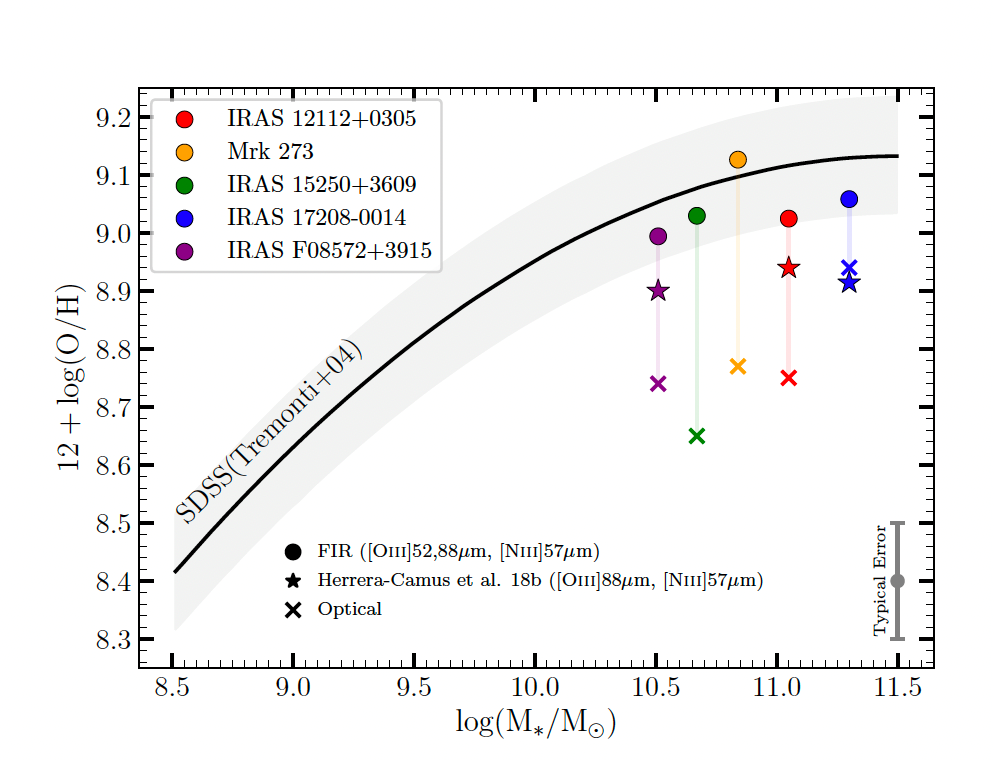 Low gas-phase metallicities of ultraluminous infrared galaxies are a result of dust obscuration, Chartab et al, Nature Astronomy, 26 May 2022