Atmospheric, Oceanic and Planetary Physics
It is with great sadness that we announce that our friend, emeritus colleague and former Head of Atmospheric, Oceanic and Planetary Physics Professor Fred Taylor died on 16 December 2021.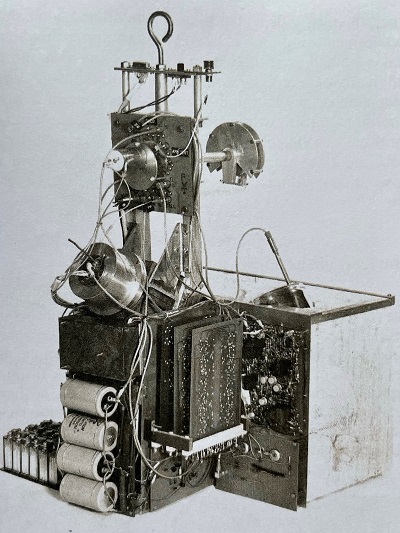 Fred joined Oxford's Department of Physics and Jesus College in 1966 as a DPhil student under the supervision of Sir John Houghton. His thesis was on the development of an infrared radiometer as prototype for an atmospheric temperature sounder to be launched on the NASA Nimbus satellite (see image, right). Having successfully demonstrated the performance of the instrument on a high-altitude balloon system, the instrument would successfully fly on Nimbus 6 and subsequently on planetary exploration missions to Venus and Mars.
After completion of his thesis, Fred moved to California to join Dr Farmer's team at the Jet Propulsion Laboratory in Pasadena, California, NASA's main centre for planetary missions. He worked on a wide range of planetary missions and was selected as Principal Investigator of the VORTEX instrument, the first temperature sounder for planet Venus, launched on the Pioneer Venus mission in 1978.
A dynamic leader
In 1979, when John Houghton went on leave of absence to head the Appleton Laboratory, Fred returned as Acting Head of the Atmospheric Physics Department at Oxford. Returning from JPL, Fred became Reader and Head of Atmospheric Physics in 1984 and was appointed to the Halley Professorship in 1990. Under his leadership, the department expanded in size and significantly broadened the scope of its research into climate dynamics, physical oceanography and planetary science, building new links with the Met Office and the Institute for Oceanographic Sciences. As a result, the department changed its title in 1990 to Atmospheric, Oceanic and Planetary Physics (AOPP). Fred supervised a large number of DPhil students, many of whom continue to work in planetary science.
Fred was personally involved in a number of major space missions with NASA and ESA for both Earth observation and planetary exploration, including ISAMS, Galileo/NIMS, Mars Reconnaissance Orbiter/Mars Climate Sounder, Cassini/CIRS and Venus Express. He was a Distinguished Visiting Scientist at JPL and had many international collaborators.
A prolific writer
Fred was also a prolific writer, publishing many books on both technical topics and popular science. He has left us with a prodigious legacy of textbooks touching on virtually all aspects of planetary science, as well as a very engaging memoir and the planetary science community will continue to learn from these for many years to come. Fred handed over the headship of AOPP to David Andrews in 2000 and retired in 2011. He was also a Fellow and subsequently Emeritus Fellow of Jesus College. Even after his retirement, Fred remained devoted to AOPP and tirelessly organised historic AOPP documents and instruments in the Dobson Room until very recently. We pass on our sincere condolences to his wife, family and friends.
Professor Raymond T Pierrehumbert, the current holder of the Halley Professorship writes:  'As the inaugural holder of the Halley Professorship, Fred set very high standards which all of his successors will strive to live up to.  Even in retirement, he was an active presence at department seminars, and I enjoyed frequent discussions with him on matters scientific and otherwise, both in the Department and at Jesus College.  I had been looking forward to many more years of his company, and his untimely passing is deeply lamented.'