Photovoltaics and nanoscience
Condensed Matter Physics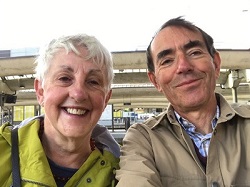 In June 2021, the Department of Physics received a significant donation from the Binks Trust to further solar energy research over the coming years. The gift will support the work of Professor Henry Snaith, one of the department's leading experts in photovoltaics. Professor Snaith will be titled the Binks Professor of Renewable Energy in recognition of this generous donation. In addition, the trust will also fund a DPhil scholarship for a student working in the field of photovoltaic research, and a biennial workshop focused on renewable energy. We speak to the chair of the Binks Trust, philanthropist Jo Elliot to find out more.
Why Oxford and why photovoltaics?
I am an alumnus of New College and studied physics as an undergraduate so a gift to Oxford's Department of Physics is an obvious choice; my wife, co-chair of the Binks Trust, is an alumna of Edinburgh University and we have made a similar gift there too.
With this gift, we wanted the money to go where it was needed most and where it could have the most impact; Professor Snaith's work with solar photovoltaics is groundbreaking and has the potential to be of global significance. Climate change is one of the great crises of our time and Professor Snaith is doing extraordinary work in developing low-cost photovoltaics using perovskites – his research is hugely important.
The gift not only provides support for Professor Snaith but will also fund a DPhil scholarship in this field and a biennial workshop; what was the thinking behind this?
We wanted the donation to have as much impact as possible and so worked up this three-fold approach. The funding will support Professor Snaith in his work so that he can continue to develop his world-leading research and inspire his extremely able group. The provision for a DPhil student will allow him to add to his group and the workshop has the potential to further the field internationally.
Professor Snaith is doing incredibly important work. Having met him and heard him talk about his research and the potential it holds, structuring the gift in this way made the most sense.
What are your hopes for the gift?
What we really want is for this gift to act as a catalyst to inspire future funding in this field. While our donation will have an immediate impact, this work requires more sustained funding to make the changes we need to see as a society. It would be fantastic to have more DPhil students under Professor Snaith's supervision for example – he would make excellent use of the additional resource and the students would stand to benefit enormously working as part of his group. I know another donor, Nick Greenwood, has already supported four DPhil students in this group and is about to start funding a fifth which is fantastic.
Ultimately, we would very much like it if our gift inspired other benefactors to endow a post in the longer term. Research into renewable energy is critical right now and it would be wonderful for Oxford to be at the forefront of this vital work as a result of Professor Snaith's work. And, of course, it would be incredibly satisfying to know that Alison and I played our own small part in making it happen; it means a great deal to us that Binks Trust funds can help an initiative that could positively impact the world.

About the Binks Trust
The Binks Trust was established by Sir Gerald Elliot who read PPE at New College, Oxford and Margaret Elliot MBE who read Classics at Somerville College, Oxford. Following the passing of Sir Gerald Elliot, his son Jo Elliot continues the work of the trust. Jo manages the trust along with his wife Dr Alison Elliot CBE FRSE.
Click to learn more about giving to the Department of Physics or contact Lisa Willmot: lisa.willmot@physics.ox.ac.uk