Details for the 2023 Open Day will be announced shortly. 
We are hosting an Open Day for prospective graduate students on Monday 5 December 2022. This will take place between 10:00 and 16:00 in the Denys Wilkinson Building, which is home to the Astrophysics sub-department.
If you wish to attend, then please complete this brief registration form. We will reimburse reasonable  expenses for travel within the UK. Please retain all receipts if you wish to make such an expense claim.

The program includes overviews of the graduate admissions process and the DPhil program, as well as an overview of the research we do in Oxford Astrophysics. Representatives from each of our research areas will present brief overviews of the projects on offer. There is plenty of space throughout the day to meet with prospective supervisors or for other informal discussions, and there is also a (students only!) session where prospective applicants can chat with our current cohort about their experiences as a Oxford DPhil student in Astrophysics. We will provide lunch and refreshments throughout the day, which concludes with an optional tour of some of the laboratory spaces in the building.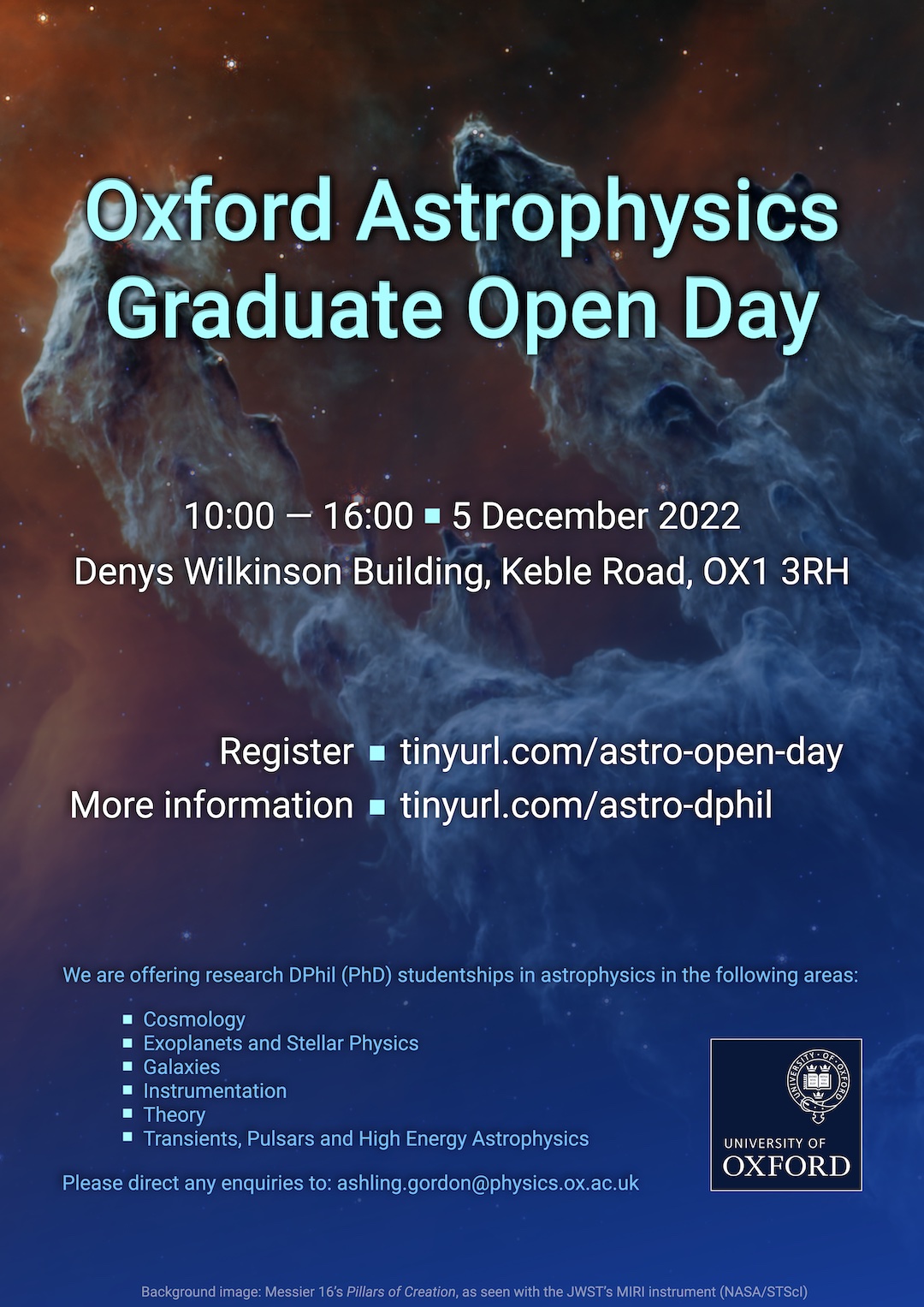 Information about the projects we are offering for 2023 entry can be found on these webpages now. Note that some projects are cross-disciplinary and therefore listed under more than one theme. Please feel free to contact supervisors directly if you have any questions about a specific project.

Please also note that you are not required to select a final project / supervisor at the point of application. Whilst it is useful for us to know the broad areas you are interested in, we do not expect you to have made a final decision on your preferred projects, and there will be opportunities to discuss your interests before offers are made. Applicants who are invited to interview will have an opportunity to speak to supervisors in more detail about their projects through face to face or online sessions, either as a group or on a one to one basis.

If you are unable to travel to the Open Day due to other commitments but still wish to discuss anything with us, either about a specific project or any other aspect of our DPhil program then please do not hesitate to get in touch, either with the supervisor directly, or with our Graduate Administrator, Ashling Gordon (ashling.gordon@physics.ox.ac.uk, 01865 273303). We will try our very best to accommodate your needs.

In the meantime, please enjoy this selection of short videos below, which includes a virtual tour of the Oxford Physics department, as well as some words from some of our past and present grad students, and we look forward to seeing you in Oxford!
An astrophysics DPhil with an engineering background (Nijin Thykkathu)
Impressions of a first year DPhil student, modelling planetesimals in the Milky Way (Matthew Hopkins)
Impressions of a first year DPhil student (Rohan Varadaraj)
Impressions from an exoplanets DPhil student (Sophia Vaughan)
My experience as a DPhil student studying astronomical instrumentation (Andrea Hidalgo Valadez)
Studying for a DPhil in galaxy formation and evolution at Oxford (Dominic Dootson)
My impressions of conducting DPhil research on molecular gas in galaxies (Fuheng Liang)
My experience as a DPhil student at Oxford astrophysics (Lucy Oswald)