Biological physics
Condensed Matter Physics
Over the last few months, four groups from the Department of Physics have moved to join the newly founded Kavli Institute for Nanoscience Discovery. Professor Richard Berry, Professor Achillefs Kapanidis, Professor Stephen Tucker, Professor Andrew Turberfield and their respective groups have all taken up residence in the purpose-built offices and labs in the New Biochemistry Building; they are set to fulfil the institute's mission to make significant contributions to global health through a culture of collaboration.
World-leading experts
The Kavli INsD brings together world-leading experts from seven disciplines under one inspiring roof: physics, biology, biochemistry, pathology, chemistry, physiology and engineering.
'We are at the intersection of seven different disciplines that in many ways are worlds apart,' explains Professor Carol Robinson, Director, Kavli INsD. 'However, by strategically bringing together those areas of research that cross traditional academic boundaries, we are creating an environment to support high risk, high reward research. It is great to have physics as part of this endeavour.
'Our research themes are broadly as follows: brain health; infectious disease propagation; instrumentation; microbial mechanisms and antimicrobial resistance; and anti-malaria treatments. The work that we do at the Kavli Institute therefore has the potential to impact health.'
Specialist facilities
The building has been constructed with collaboration in mind. Designed around a large, open, wood-clad quadrangle of a stairwell, it is flooded with light thanks to a glass ceiling. Each of the six floors has a similar layout with a wall of glass-fronted wet labs across the eastern side and banks of desks either side. The institute houses specialist facilities including a cryo-electron microscopy facility, mass photometry capability, mass spectrometers, and single-molecule imaging microscopes.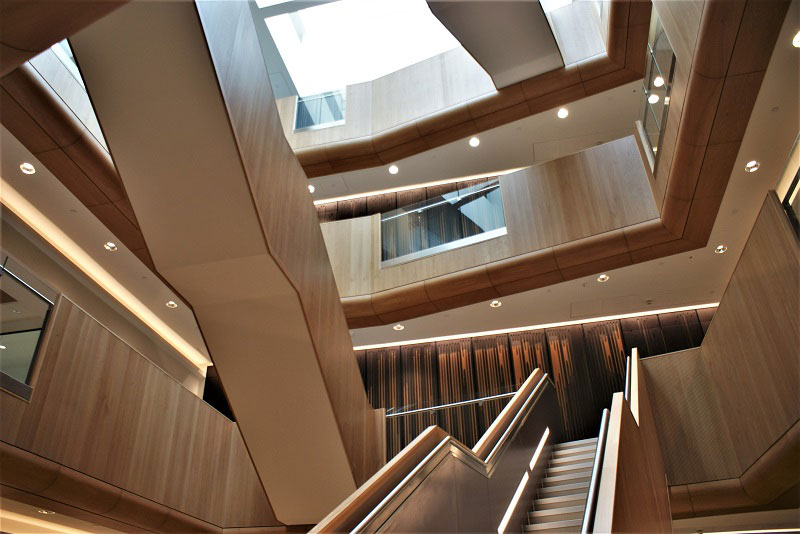 'It is fantastic to be part of the Kavli Institute and Foundation,' confirms Professor Kapanidis. 'As colleagues found with the Beecroft, being in a carefully designed environment can really positively impact how you work and interact with others; it is immediately much easier to collaborate with colleagues from complementary groups and departments as we are all under one roof and we are also very enthusiastic about the brand new lab and office spaces. It is still very early days but I am very excited for what the future holds.'