I am the Group Leader of the Quantum Matter in High Magnetic Fields and I am a Senior Research Fellow at Somerville College, Oxford. I am involved with setting up the new Oxford Centre for Applied Superconductivity (CFAS) and its new research activities in Physics. Since 2011 I have been organizing the Oxford Symposium on Quantum Materials combined with an expert visitor programme both funded by the EPSRC as well as a Cafe Scientifique of Quantum Materials dedicated to open discussions on quantum materials.
Previously, I held independent research positions funded by the EPSRC through a Career Accelaration Fellowship at the University of Oxford and a Royal Society Dorothy Hodgkin Fellowship at the University of Bristol and University of Oxford. I was Departmental Lecturer and Post-Doctoral Research Assistant at the University of Oxford, after my PhD in Oxford at the Queen's College. I was a member of the Superconductivity Group Committee of the Institute of Physics, and the SelCom, EuroMagnet II Selection Committee for access to the high magnetic fields facilities in Europe. My part-time research work has been combined with raising two children.
I was awarded two prestigious prizes Brian Pippard Prize 2019 on Superconductivity from the UK Institute of Physics  for significant contribution to superconductivity and the EuroMagnet Prize 2011 for research in high magnetic fields to understand iron-based superconductors.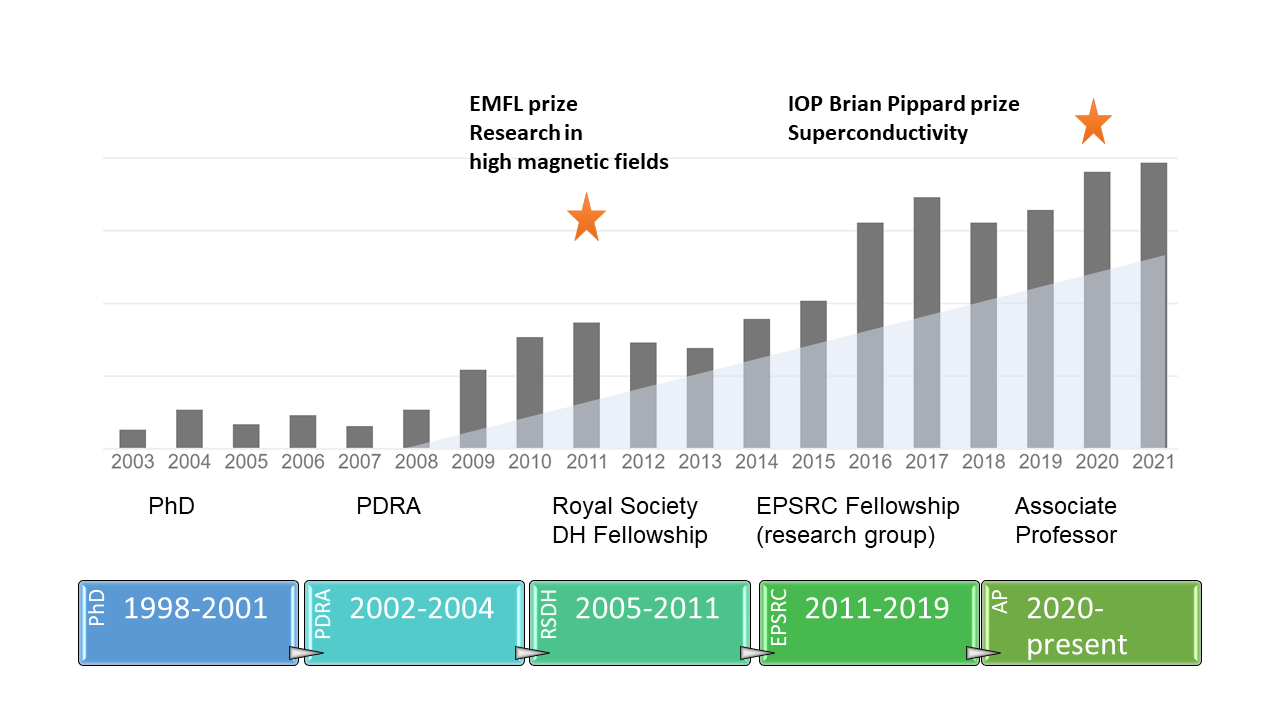 Research interests
Quantum Materials
Superconductivity
High magnetic fields research
Quantum oscillations
Angle-resolved photoemission spectroscopy
Topological quantum matter
Thin flake devices
Selected publications
Unconventional localization of electrons inside of a nematic electronic phase
Proceedings of the National Academy of Sciences Proceedings of the National Academy of Sciences 119:43 (2022)
Iron pnictides and chalcogenides: a new paradigm for superconductivity
Nature Nature Research 601 (2022) 35-44
Signatures of a quantum Griffiths phase close to an electronic nematic quantum phase transition
Physical Review Letters American Physical Society 127:24 (2021) 246402
Quenched nematic criticality and two superconducting domes in an iron-based superconductor under pressure
Nature Physics 16, 89–94 (2020) Nature Research (2019)