Online project spring 2023
For everyone
We are hosting a series of two webinars on the 18th and 25th May 2023 at 6:30pm for all young people aged between 9 and 12. Take part to meet real researchers, get involved in astrophysics research and even do your own mini-project. Sign up here to join us and find out more by checking out our event page.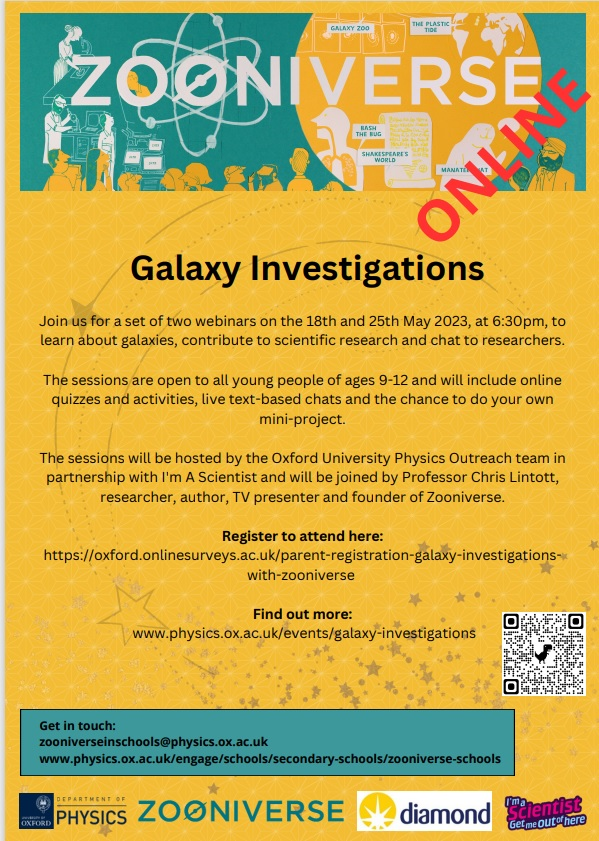 For schools
Partnering with I'm a Scientist, we also offer a number of completely free, short activities about galaxies aimed at years 5-8, which can be worked through in the classroom before joining a chat session to discuss your results with a team of research scientists.  
The activities will guide your pupils towards answering questions about galaxy brightness, colour and shape, and towards understanding how researchers use computers to move from looking at images of galaxies to understanding our universe. The activities are available on a dedicated Zooniverse in Schools section of Zooniverse and include explanatory videos, teacher guides and some hands-on experiment ideas to extend your pupils' learning experience.
After taking part in as many activities as you choose to, head over to I'm a Scientist to book a chat session with a galaxy researcher where you can talk about your work and all things space science related. 
Timeline: The project will run until June with more activities being added over the next month. If you'd like to book a class webinar, or and individual call, to introduce you to Zooniverse in Schools just get in touch
There will also be an introductory video on the website shortly to help you get started.
How to get involved: Head to either I'm a Scientist or to Zooniverse in Schools to get started and join the Zooniverse in Schools mailing list for updates. If you have any questions, please get in touch.
For researchers
Please visit our page for researchers 
Background 
Zooniverse
The Zooniverse is the world's largest and most popular platform for people-powered research. This research is made possible by volunteers — millions of people around the world who come together to assist professional researchers. Our goal is to enable research that would not be possible, or practical, otherwise. Zooniverse research results in new discoveries, datasets useful to the wider research community, and to date has led to over 300 publications in research disciplines ranging from astrophysics to zoology.
Zooniverse in Schools
Zooniverse in Schools project is an STFC funded project that will enable children (9-12yrs) to analyse real data from the Zooniverse citizen science platform in their classroom, supported by a series of workshops that can be delivered online or in-person. The workshops aim to use citizen science as a bridge between school science and real-life STEM research and careers.  
Zooniverse can also be incorporated into your teaching on a small scale, helping to bridge the gaps between classroom science and research science, and between students and researchers. Whether as an extension activity for individual pupils, as a class activity, or as a way to introduce scientific problem solving and coding in context, Zooniverse is a useful and powerful resource.

Latest News
We are scaling up our online offer with a series of two webinars to be held on the 18th and 25th March at 6:30pm. These are open to all young people aged 9-12 and will give you the chance to meet real researchers, take part in astrophysics research and even do your own mini-project! We will be joined by our own Professor Chris Lintott as well as plenty more researchers. 
After a term which was every bit as busy as we hoped, we are planning ahead for January 2023 and the launch of the online phase of Zooniverse in Schools which is open to all schools. 

Partnering with the team at I'm a Scientist we are giving schools a chance to make their own galaxy discoveries and discuss them with researchers, and giving researchers the chance to talk to young scientists around the country from the comfort of their own desks! 

We will be launching the program for schools with webinars held between Tuesday the 31st of January 2023 and Thursday the 2nd of February 2023. To sign up, click here. 

If you are a researcher and would like to take part, click here. 

We look forward to seeing you all in January!
This term is shaping up to be an incredibly busy and exciting one for Zooniverse in Schools with two conferences already attended and bookings  for around 700 pupils between now and December. 
https://twitter.com/LorraineCoghill/status/1570383873015414784?s=20&t=6…
https://twitter.com/oliviakeenan1/status/1569681084996112386?s=20&t=WJT…
Today saw the first of our new workshops delivered to 40 pupils with the help of the Abingdon Science Partnership. These pupils will complete another two workshops based on the Virus Factory Zooniverse Project. If you'd like to get involved, drop us an email. 
Lots of interesting interactive learning about cells and viruses in the first Zooniverse in Schools Virus Factory workshop with Carswell Primary School Y5's today @OxfordPhysics @ASPartnerships @OX14_LP @schoolstogether pic.twitter.com/ZE9mgiKdRr

— AbingdonSciPartners (@AbSciPart) May 10, 2022
Between the 14th and 17th March 2022, our first in-person Zooniverse in Schools (Virus Factory) workshops reached 270 pupils from years 3 to 6 at a primary school in South London.
The pupils learned some core microbiology, participated in extracting DNA from strawberries, learned about the Diamond Light Source synchrotron and participated in citizen science through the Zooniverse platform. The feedback from teachers and pupils was really positive with lots of excited young people telling Kat about how they want to be scientists.
Building on the success of these stand-alone workshops, the STFC series of workshops will start running in early May with local Oxford primary schools and the stand-alone Virus Factory Workshops will be part of the department's upcoming Marie Curious events.
Meet Kat!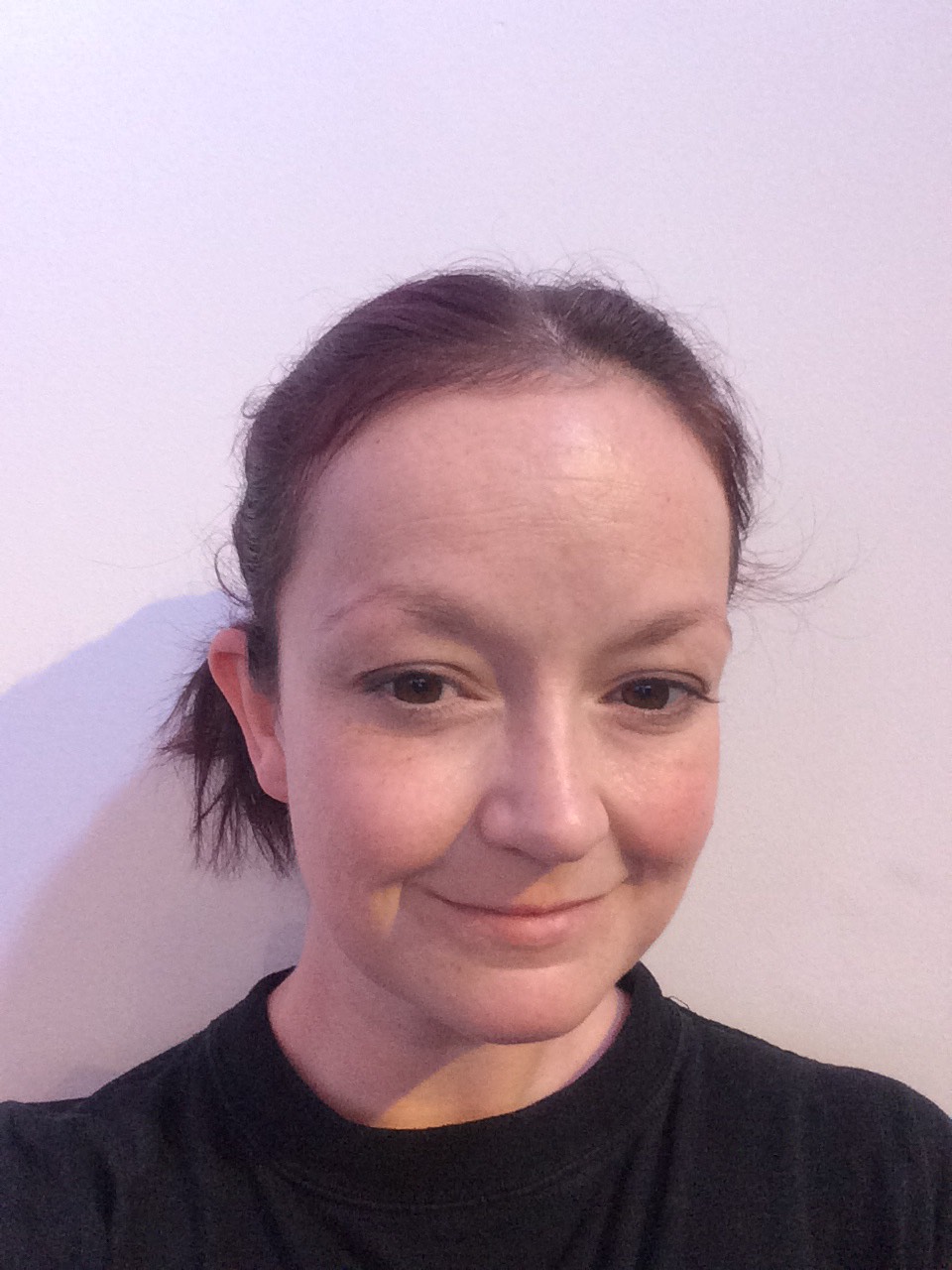 Kat has joined the outreach team at Oxford Physics to coordinate the Zooniverse in Schools programme. Kat is a skilled and experienced STEM education professional who is passionate about high quality education. Kat has taught secondary maths and physics before leaving the formal education sector to work in informal education. Most recently, Kat has worked in the learning team at the Science Museum in London producing and delivering educational content for staff, visitors and schools. Contact Kat about Zooniverse in Schools here for information about our workshops or to discuss ideas about using Zooniverse on a smaller scale.